With the wide selection of decks we provide, we're certain you'll find the design that suits your property.
HOW MUCH DOES IT COST TO BUILD A CUSTOM DECK?
Building a custom deck in Toronto costs about $35 to $70 per square foot. The quote we give you on your deck project depends on:
The size of the deck you want to build
The type of flooring that you use for your outdoor deck
Special additions such as a fence, stairs, etc.
The extent of labour and scale of the project
DECK RAILINGS
No deck is complete without railings. We can build and install deck railings that will add support and aesthetic value to your deck. Available in different materials and finishes, the deck railings we install will perfectly complement your deck. Get in touch with us to learn more about our deck rails.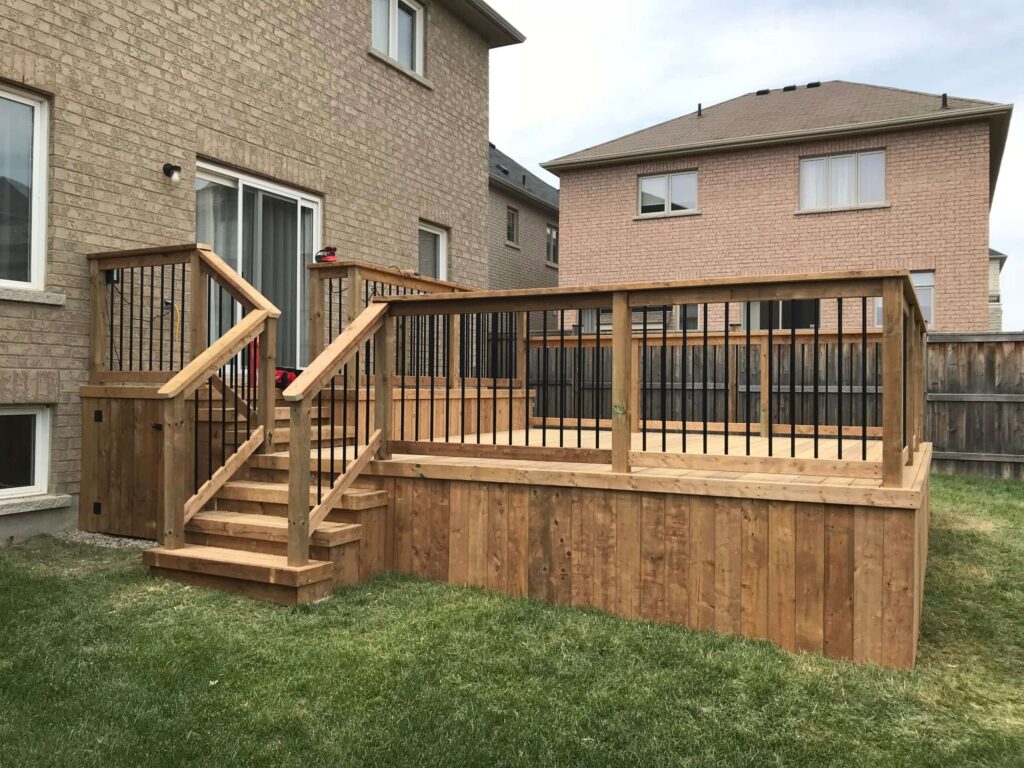 HOW MUCH DOES IT COST TO BUILD A PORCH IN TORONTO?
The average cost to build a 10×10 ft porch in Toronto is around $4,000 to $6,000. A ground-level porch can be finished for $1,200. The quote we provide on your residential porch project includes:
The labour necessary to complete the project
Custom porch upgrades you might need or request
The materials we use in building your porch
Our porch building prices are competitive, fair, and transparent. We use top-of-the-line estimation tools that you can trust to provide an accurate quote that we honour 100%.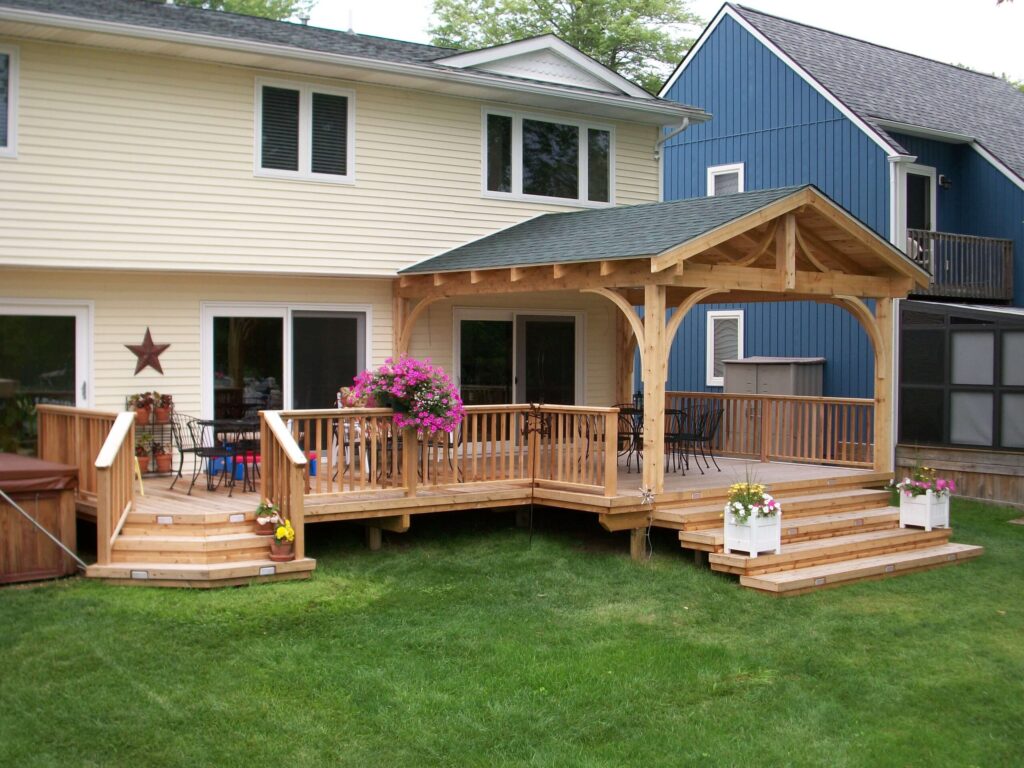 DO I NEED A BUILDING PERMIT FOR MY PORCH?
Generally speaking, all porch addition projects require a building permit unless:
The finished deck isn't more than 60 cm (24 inches) higher than the adjacent floor
The porch won't be a part of an exit required under the building code
The construction complies with the zoning bylaws
If you need assistance with submitting your building permit application form, the Living Construction team is more than glad to offer it.
BUILDING A PORCH IS ADDING VALUE
Many homeowners wonder if building a porch for their house will increase its value, and the answer is an overwhelming yes! Although porches are considered a luxury, rather than a necessity, it's reported that homeowners will receive an average of 84% return on their investment.
A big part of your porch contributing to your home's market value lies in hiring the right porch builder. And you can count on Living Construction to give you just that!
GET IN TOUCH WITH US
We look forward to connecting with homeowners across Toronto and the GTA. If you're looking for reliable contractors to build your custom deck or porch, don't hesitate to reach out to us. Either call us at (905) 760-0426 or send an email to info@livingconstruction.ca
CUSTOM PORCHES
Porches are the best addition you can have, especially in the colder months. We can help you get the beautiful porch you want, where you and your loved ones can have a warm, cozy evening under the stars. We design and build unique and durable porches for homeowners in Toronto and the GTA. As a family-owned home improvement and renovation company, you can trust that we will complete your project up to standards and within a reasonable timeframe.
With over 15 years experience and a real focus on customer satisfaction, you can rely on us for your next project. We provide a professional renovation and installation services with a real focus on customer satisfaction.
Financial Responsibility to Our Clients
Superior Quality and Craftsmanship
Quality and Value to the Projects We Deliver
Highest Standards in Cost Control
On Time and on Budget
Real Focus on Customer Satisfaction
What's the difference between porches and decks?

Porches and decks are very similar in structure. However, porches tend to have a roof while decks are usually completely open, no roof needed. For this reason, building a porch in your home generally costs more than building a deck.

How much does deck railing cost?

The cost to install a deck railing depends on the type and material you choose. For example, glass railings are considered more expensive than aluminum railings.

Can you pressure wash ipe decks?

Some deck installation experts say it's okay to power wash ipe decks while others say it's damaging. Still, if you decide to pressure wash an ipe deck, make sure the setting on the pressure washer is not higher than 1200psi to guarantee no harm to the deck.